[InfReC] is the coined abbreviation word of "Infrared Camera" and also has the meaning of [The Device Recording Infrared Information].
Our product research and development is targeted at improving the quality of life by protecting people and simplifying their daily tasks while measuring temperature, controlling environments, enhancing security, etc.
InfReC R550 Series : Features
User-Friendly Operation
Rotary LCD monitor is built in for multi-angle shooting.
View finder is built in to maintain clear visibility when outdoor.
Easy shooting from any angle by FRZ/REC buttons placed in 2 positions.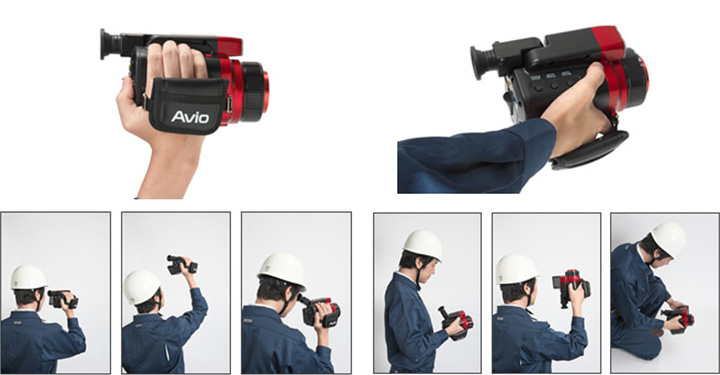 5 Megapixel visible camera adds clear visible images to thermal and visible "Side-by-Side Images" and "Fusion Images".
Picture-In-Picture
Side-by-Side
Fusion
Temperature scale and focus are automatically and simultaneously adjusted by one button on full automatic function.
Built in high-speed motor grants swift focus adjustment.

Very useful "Wired Remote Control Unit" is a standard accessory.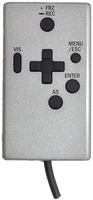 58μm Minimum Spatial Resolution at 10cm distance with SR mode
Very small objects can be measured and recorded with the combination of the R550's Standard Lens with capability to close up 10cm and Avio's "Multi-Frame Super Resolution Technology". It is possible without an optional lens.
Minimum Spatial Resolution: equivalent to 58μm at 10cm distance <in Super Resolution (SR) mode>
Wide Viewing Angle Lens Increase your Working Efficiency
The wide viewing angle lens captures large area images when working at the limited space.
Field of View (F.O.V.)
Standard Lens: 32° (H) x 24° (V)
3x Wide Angle Lens (option): 93° (H) x 73° (V)
Multiple Recording Modes
Super Resolution (SR) Mode for high resolution recording.
Quick Panorama Mode to shoot continuous wide angle images up to a maximum of 100° horizontal.
SD Movie Mode allows taking movies with the R550 camera at a maximum 3Hz frame rate. *1
Interval recording of both thermal image and visible image simultaneously.
Trigger input and alarm output functions are provided for use with external instruments. *1
*1:R550Pro, R550Pro-D only.
Various measurement functions
Various Mearurement Function; Max/Min Tracking, ⊿T, Emissivity Reverse-Caluculate , line profile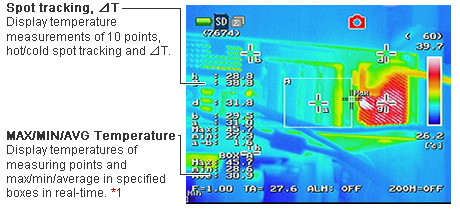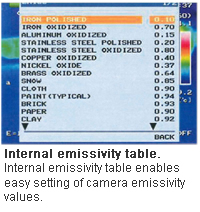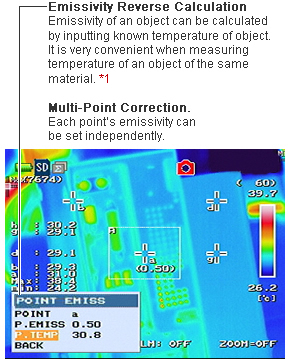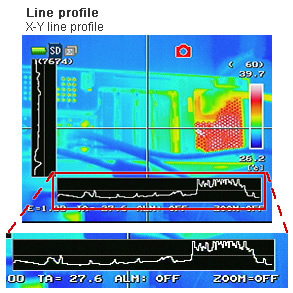 Simultaneously Record Real-Time Thermal and Visible Images to a PC via USB2.0
Transfer analyzable thermal image movie data to PC at 30Hz.
Transfer visible image simultaneously with thermal image to PC at 15Hz.
Software "NS9500PRO" which is useful for analyzing data in real time is provided as standard accessory with R550Pro / R550Pro-D.
Software
PC On-line Software "NS9500PRO (including NS9500STD)"
NS9500PRO is a standard accessory of R550Pro, R550Pro-D.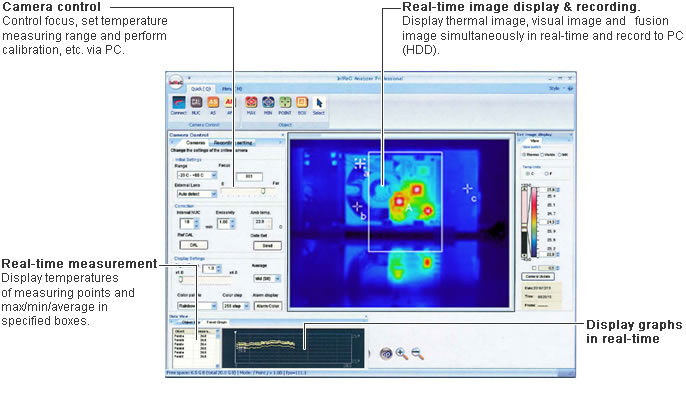 PC Analysis Software "NS9500STD"
NS9500STD is a standard accessory of R550 and R550D.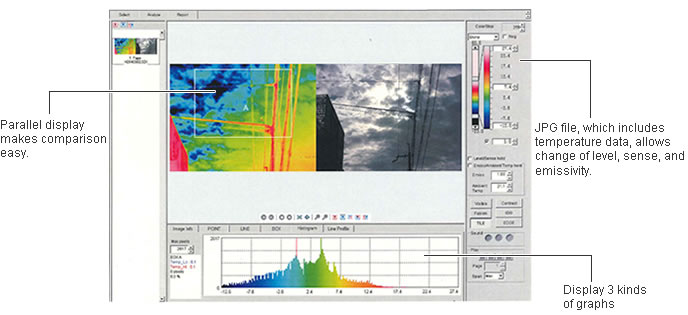 3 kinds of graphs
Line profile
Histogram
Trend graph
Radiated heat capacity calculation
Calculate the radiated heat capacity of the specific figure domain and analyze the heat loss from the object.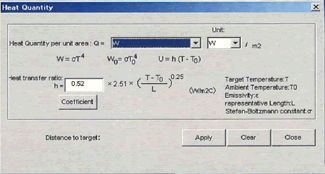 Length/Square measure calculation
Input the distance to the object, and length/square measure of the setting figure on the object can be calculated.

Panoramic Thermal Image
From six (6) continuous frames a highly accurate panoramic image can be synthesized.

Default Report Template can be easily edited
Freely modifiable reporting formats using WORD or EXCEL allow adding company logo, etc.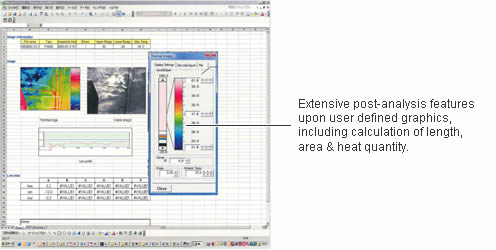 Software Name
Model
Remarks
High-Performance Online Analysis Program
InfReC Analyzer NS9500 Professional
NS9500PRO
For On-line Analysis Software (Bundled with R550Pro / R550Pro-D)
(including NS9500STD)
Multi-function Report Generator Program
InfReC Analyzer NS9500 Standard
NS9500STD
For Off-line Analysis Software (Bundled with R550 / R550-D) *2
*2: In order to transfer thermal image movie data by R550 / R550-D, you need to upgrade to "InfReC Analyzer NS9500 Professional" (optional software).
• Specifications and outline on this page are subject to change without notice for improvement.
• Company names and commodity names are trade names or registered trade marks of each company.
• Nippon Avionics Co., Ltd. will not be responsible for any damage of infrared detectors due to incoming strong light (e.g. laser) through lens(es).
• This product is subject to Japanese Export Control Law. Depending on its destination, prior assessment and authorization may be required. When exporting from country of initial purchase destination, please be sure to follow that country's export regulations as it may require an export permit beforehand.