InfReC Thermo FLEX F50 Series : Features
"Auto Point" Function – Make the temperature scale's setting more efficient
The setting and adjustment of temperature scale was the most difficult operation for beginners. With the new "Auto Point" function, even beginners can easily set the optimal temperature scale by touching the upper and lower limit temperature values intuitively.
Moreover, you can automatically adjust the upper limit temperature values which depends on the temperature change by "Auto-Maximum" function.
Auto Point "ON"
Touch the point you want to set as upper/lower limit temperature values
"Auto Point" setting can be optimized
"Sky Off" Function – "Auto-Scale" works by optimally at outdoor(Patent Pending)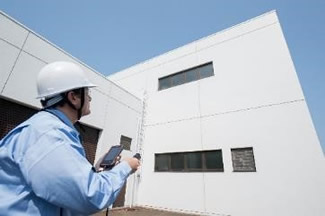 You can set the auto-scale's upper/lower values by ignoring the temperature of the above/below threshold values.
For instance, setting the auto-scale's values on the condition of "Ignore 5℃ or less" will mask the temperature of cloud or sky.
It is major problem that accurate measurement has been difficult since the "auto-scale" setting at outdoor is pulled to the temperature of the sky or cloud.
"Sky Off" function solves this problem.
"Sky Off" OFF
"Sky Off" ON
"Burst Shooting" Function – Quick shooting for even at unstable place
Press and hold down "Shutter Button"
"Burst shooting" function can be used for quick shooting at the unstable place where you cannot keep shooting angle or keep your posture.
You can choose the best shot taking your time after quick burst shooting.
The images taken by "Burst shooting" are recorded at maximum 7.5Hz speed, and are recorded to SD card up to 10 seconds
(For "Online model" and "Standard model" only)
"Image Rotation" Function – Rotate the image every 90°
Rotate 180°
"Image Rotation" function can be rotated the image of screen every 90° to correct the orientation of image which rotates due to the orientation of camera.
Accurate measurement is possible for camera-head to turn around the pipes and a narrow space with stable posture while checking the rotating image.
"Composite Visible Image" Function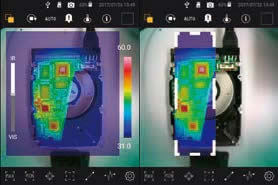 The controller can be adjusted the transmission of thermal image and visible image on the screen with slide gauge and can be trimmed the thermal image of Picture-in-Picture by freely.
"Alarm" Function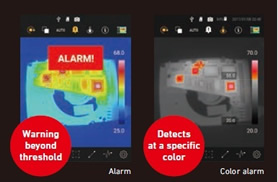 An alarm notifies by voice and message when the camera detects the temperature of the above/below threshold values.
Moreover, "Color Alarm Function" is also equipped for highlighting the specific temperature area.
The New "Trend Graph" Function – Automatically create trend graph without a PC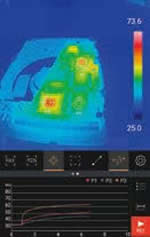 The controller can be created a trend graph for recording the changes of temperature with lapse of time. The controller can capture the changes of temperature without connecting to a PC. The analysis working is drastically reduced.
The created trend graph can be transferred to a PC, and the graph will be instantly represented by Excel®. ("Online Model" and "Standard Model" only)
"Line Profile" function is also equipped to create a graph of the temperature gradients.
*Microsoft®, Windows®, Word® and Excel® are a trademark of Microsoft Corporation in the U.S. and other countries.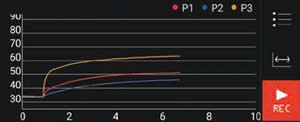 Real-Time Analysis is possible by connecting to a PC
The thermal movie data for analysis is transferred simultaneously to a PC at maximum 7.5Hz via USB2.0. The movie file with temperature data (SVX) or the still image file with temperature data (JPEG) can be recorded to a PC.
On-line Analysis is possible by optional software "InReC Analyzer NS9500 Professional"
("Online Model" only)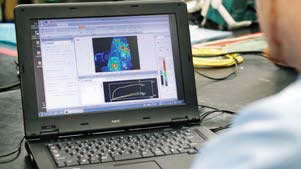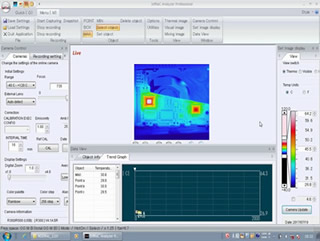 • Specifications and outline on this page are subject to change without notice for improvement.
• Company names and commodity names are trade names or registered trade marks of each company.
• Nippon Avionics Co., Ltd. will not be responsible for any damage of infrared detectors due to incoming strong light (e.g. laser) through lens(es).
• This product contains U.S. origin components. Subsequently, when re-exporting from the country where the product is used, users are required to observe the Export Administration Regulations (EAR) such as the US government's restrictions on trades with specific persons, entities or countries and the recordkeeping requirement for five (5) years. Moreover, permission from the US government may be required for weather it is domestic sales or exporting sales, depending on the type of business, purpose of use, and destination of the user by US Government's end-use control policy as following: (Section 744.9 "RESTRICTIONS ON EXPORTS, REEXPORTS, AND TRANSFERS OF CERTAIN CAMERAS, SYSTEMS, OR RELATED COMPONENTS" from Part 744 "CONTROL POLICY: END-USER AND END-USE BASED", Export Administration Regulations (EAR) by US Department of Commerce:
(1) In case that an user is the national armed services (army, navy, marine, air force, or coast guard), as well as the national guard and national police, government intelligence or reconnaissance organizations. or
(2) In case that an user is any person or entity whose actions or functions are intended to support "military end-uses" including to incorporate this product into any commodity that is designed for the "use," "development," "production," or deployment of military items.)