[InfReC] is the coined abbreviation word of "Infrared Camera" and also has the meaning of [The Device Recording Infrared Information].
Our product research and development is targeted at improving the quality of life by protecting people and simplifying their daily tasks while measuring temperature, controlling environments, enhancing security, etc.
InfReC R450 Series
High Resolution, High Sensitivity, High Precision!
Thermal Image Capturing for Thermographers.
Selectable 4 models for your application
Model
Frame rate
Features
R450Pro
40Hz

Full featured model
Measuring range: -40 to +1500°C
Suitable for use in R&D field where measurement is made in time-series or analysis of heat accumulation or heat dissipation process during welding where an object of room temperature is heated and continuous change of temperature is observed.

R450Pro-D
8Hz
R450
40Hz

Standard model for a wide variety of applications
Measuring range: -40 to +650°C

R450-D
8Hz
Wide measurement range! (R450Pro)
From room temperature to 1500℃, object temperature can be measured in one range without range change.

Onboard Super Resolution Processing Improves Thermal Image Quality Using 4x Pixel Count Enhancement
Multi-frame Super Resolution Processing is a technology that restores the details originally inherent to the object while enhancing the resolution and minimizing fuzziness and noise of the image.
This is accomplished by performing sophisticated calculations on continuous multi-frames of the image.
Standard: 480 x 360 pixels Spatial resolution: 0.87 mrad
Super Resolution: 960 x 720 pixels Spatial resolution: equivalent to 0.58 mrad *1
Super Resolution Software Enhances Image Clarity
The "InfReC Analyzer NS9500" series analysis software with a SuperResolution "Sharpness" algorithm is provided as a standard R450 series camera accessory. The Sharpness algorithm provides additional noise reduction and edge enhancement of the object's captured thermal image. This creates clearer images that easily show small temperature differences such as tiny cracks on a structure's wall or the patterns of a printed wiring board.

"Quick Panorama Function" Improves Synthetic Accuracy and Ease of Operation
The R450 series camera "Quick Panorama Function" automatically captures a Panoramic Thermal Image at arbitrary sweep angles up to approximately 75° horizontally and 56° vertically without having to take individual pictures. The Panoramic Image can be photographed as a JPEG file without using a PC and easily downloaded and attached directly to a report. The "Quick Panorama Function" improves synthetic accuracy by increasing the number of the frames used for synthetic images from maximum four frames to six frames over the sweep angle to enable capturing objects of various sizes.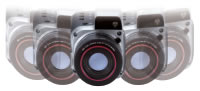 Scroll digitally zoomed images using convenient scroll indicator
Both super resolution image data and panoramic image data can be displayed in continuous zoom up to four (4)times. The scroll indicator feature allows any portion of the image to be easily enlarged to see more details while current image position is shown.
Standard
(SR mode)
2x digital zoom
(SR mode)
4x digital zoom
(SR mode)
"Automatic Movie Recording" by external trigger input *2
Reliable data acquisition
Inputting of an external trigger signal to the camera unit enables analysis software to start movie recording automatically.
Data recording linked with test equipment and field facility is available without configuring I/O system.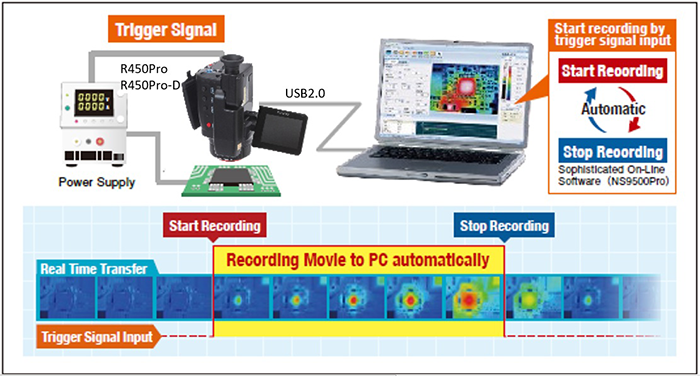 0.025°C High sensitivity by new image filtering function "Denoising"
This product uses the latest noise processing technology developed by the NEC Central Research Laboratories to reduce random noise by spatial filtering and preserve the outline details of the object being measured.
The Sensitivity (NETD) of 0.025°C (at 30°C) makes this product most suitable for discerning slight differences in temperature in non-destructive inspection.
*1 : This increased resolution results from detecting characteristic within all frames and aligning them to compensate for small vibrations such as those introduced by hand movement.
*2 : R450Pro, R450Pro-D only
To open .pdf documents, you will need the latest Adobe Acrobat Reader software.
Download Adobe software from left.
If you cannot open the document on your web-browser,
right-click the link and choose option 'Save Target As' to download the pdf into your local storage medium, first.
Then, launch the saved file from your storage device (i.e. HDD of your PC etc.).
• Specifications and outline on this page are subject to change without notice for improvement.
• Company names and commodity names are trade names or registered trade marks of each company.
• Nippon Avionics Co., Ltd. will not be responsible for any damage of infrared detectors due to incoming strong light (e.g. laser) through lens(es).
• This product is subject to Japanese Export Control Law. Depending on its destination, prior assessment and authorization may be required. When exporting from country of initial purchase destination, please be sure to follow that country's export regulations as it may require an export permit beforehand.