[InfReC] is the coined abbreviation word of "Infrared Camera" and also has the meaning of [The Device Recording Infrared Information].
Our product research and development is targeted at improving the quality of life by protecting people and simplifying their daily tasks while measuring temperature, controlling environments, enhancing security, etc.
Thermo GEAR G120EX/G100EX Series
Discontinued Models
World First! (*1) Panoramic Thermal Image Shooting Function / Vibration Alarm Function Installed! New G-EX Series Upgraded from G120/G100. High Quality Image and Outstanding Usability with Multi-Angle LCD Screen in Different Fields!
*1: [Panoramic Thermal Image Shooting and Onboard Processing Function], [Vibration Alarm Function]. The first in the world as applied to portable thermal camera according to an internal survey as of the end of December, 2009.
High Temperature Measuring Range up to 1500°C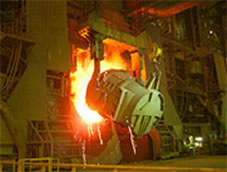 G-EX series now covers extensive measurement temperature ranging up to 1500°C that is beyond boiling points of iron or aluminium.
Improved Thermal Sensitivity and Better Image Quality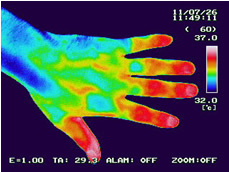 Finer temperature resolution: 0.04°C (with S/N improvement at 30°C) is materialized by newly added measurement range for ordinary temperatures from -20 to 60°C.
'Averaging Improvement' Function for Better Image Quality
Averaging function is very effective to improve thermal sensitivity, reducing noises by accumulating frames. However, as the nature of this method, when a moving object is being shot or as camera's FOV (field of view) moves (= "panning"), it creates residual images with dragging effects.
Newly developed algorithm employed by Averaging Improvement function significantly minimizes such blurring effects to keep providing cleaner images.
Conventional Averaging Function on a Moving Object
With 'Averaging Improvement' ON
High Performance Combined with User Friendly Operation
Thermo GEAR G-EX series can serve efficiently to different applications with wider measurement range (-40~1500°C) and finer temperature resolution for common ambient temperature (-20 to 60°C). Quality image can be easily obtained by anybody as its operation is just simple and easy thanks to its hardware and software design.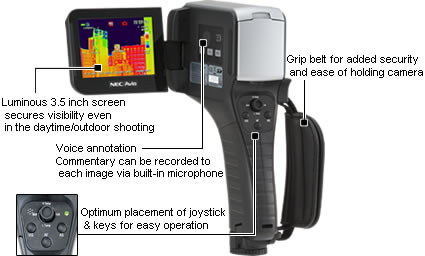 Visible Light Camera, Torch, Laser Pointer and Voice Annotation
2M pixel digital camera, LED illuminator and Laser Pointer (Class-2 red color) ensures that target objects and points of interest can be identified. Voice annotation to each image, when given, also furnishes with more information and findings on site.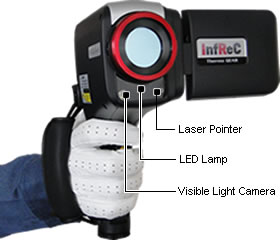 Grip Belt Added for Easier and Safer Handling & Operability
Thermo GEAR G-EX series is light and ergonomically designed to allow one handed operation for most of the time. Tilting LCD display combined with pistol grip makes it possible to target in any directions with flexible and easy shooting posture.
Features
Wide-Angle Shot (Panoramic Imaging)

World's First! (*1) Panoramic Image shooting to capture long and tall objects (G120EX only)
Alarm Function

World's First (*1) Vibration alarm (added to ordinary sound and display) for operation in a noisy environment (G120EX only)
Thermal Image Movie (Fully Radiometric)

Direct Recording of thermal motion picture on to SD Card (G120EX only)
3.5 inch LCD Screen

Tilting Display for Flexible & Easy Shooting Posture
Easy Operation

GUI and Joystick for Intuitive Operation, Auto Focus / Level-Sense
Wide View Angle

FOV: 32°(H) x 24°(V), ideal in short distance e.g. indoor shooting
Macro Shot

Minimum Focus Distance: 10cm. Getting closer to small objects.
Image Processing for Image Enhancement

Edge Enhancement (G120EX), Averaging and Median Filter
Thermal and Visual Integrated Display

Fusion, Picture-in-Picture and Split Screen
Data Storage Format

Radiometric JPEG stored in SD card. While IR/ visible JPEG images can be displayed by any ordinary viewer software, dedicated software (NS9500LT) is also provided as a standard accessory for radiometric data analysis.
*1: [Panoramic Thermal Image Shooting and Onboard Processing Function], [Vibration Alarm Function]. The first in the world as applied to portable thermal camera according to an internal survey as of the end of December, 2009.
To open .pdf documents, you will need the latest Adobe Acrobat Reader software.
Download Adobe software from left.
If you cannot open the document on your web-browser,
right-click the link and choose option 'Save Target As' to download the pdf into your local storage medium, first.
Then, launch the saved file from your storage device (i.e. HDD of your PC etc.).
• Specifications and outline on this page are subject to change without notice for improvement.
• Company names and commodity names are trade names or registered trade marks of each company.
• Nippon Avionics Co., Ltd. will not be responsible for any damage of infrared detectors due to incoming strong light (e.g. laser) through lens(es).
• This product is subject to Japanese Export Control Law. Depending on its destination, prior assessment and authorization may be required. When exporting from country of initial purchase destination, please be sure to follow that country's export regulations as it may require an export permit beforehand.