[InfReC] is the coined abbreviation word of "Infrared Camera" and also has the meaning of [The Device Recording Infrared Information].
Our product research and development is targeted at improving the quality of life by protecting people and simplifying their daily tasks while measuring temperature, controlling environments, enhancing security, etc.
InfReC TS600 Series : Construction Examples
Temperature monitoring & controlling of Die-Casting Metal Molds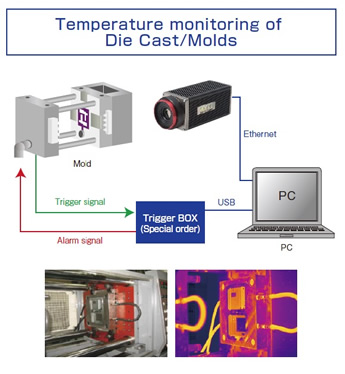 Take the thermal distribution of die-casting metal molds synchronized with external trigger signal when die-casting opens in a short period of time, and control the die-casting machine.
Infrared Thermal Imaging Camera is useful either to judge defective product to make a comparison between measured data and superior thermal data, or to feedback thermal data of the mold to controller.
Therefore, Infrared Thermal Imaging Camera contributes to quality improvement of the molded product.
Temperature monitoring of Ladle for Melting Steel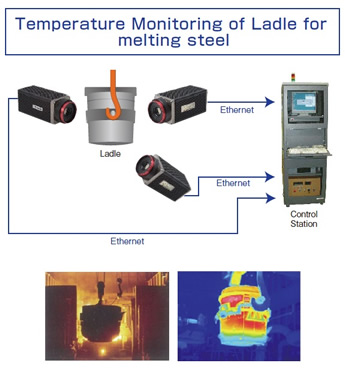 You can find out the abnormal spot of the steel ladle shell by the thermal image.
Thermal image shows the spot of molten iron likely to be leaked and the spot should be repaired.
In addition, you can forecast the next repairing timing by historical data.
Fire Monitoring of Refuse Bunker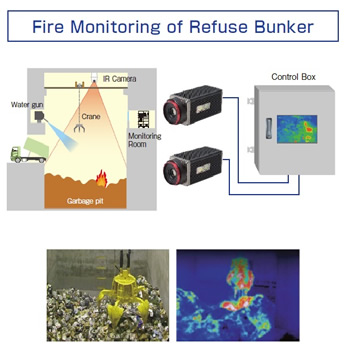 The wastes accumulated in the refuse bunker have a possibility of a fire resulted from a number of causes.
You can build systems such as "Abnormal temperature alarm System", "Deluge gun linked system" and "Automatic Alert System".
Fire Monitoring of Coal Conveyer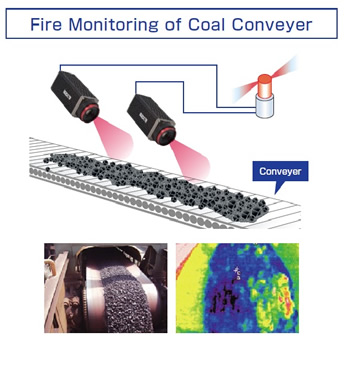 Monitor the surface temperature of coal on moving belt conveyer.
Infrared Thermal Imaging Camera can be detected abnormal temperature and outputted alarm while real-time monitoring.
• Specifications and outline on this page are subject to change without notice for improvement.
• Company names and commodity names are trade names or registered trade marks of each company.
• Nippon Avionics Co., Ltd. will not be responsible for any damage of infrared detectors due to incoming strong light (e.g. laser) through lens(es).
• This product is subject to Japanese Export Control Law. Depending on its destination, prior assessment and authorization may be required. When exporting from country of initial purchase destination, please be sure to follow that country's export regulations as it may require an export permit beforehand.