[InfReC] is the coined abbreviation word of "Infrared Camera" and also has the meaning of [The Device Recording Infrared Information].
Our product research and development is targeted at improving the quality of life by protecting people and simplifying their daily tasks while measuring temperature, controlling environments, enhancing security, etc.
InfReC Thermography R300Z
Discontinued Models
Superb Zoom Optics, Ergonomic Design, and a Japan-made IR Detector Quickly Capture the Big Picture and Close-up Details.
Features
Zoom In & Out with a Single Lens
Optical Zoom Lens covering 0.5x Wide-Angle to 2x Telephoto, FOV(H): 11°to 43°
Max. Zoom: 16x including digital zoom
f10mm Wide-angle
f20mm
f40mm 2x Tele
f40mm + 4x digital zoom

Outstanding Image Quality:
IFOV (0.59mrad~), Sensitivity(60mk), Accuracy(±2°C) *

Onboard ΔT, BOX, Max/Min Auto-tracking, Measurement Correction and Analysis

Radiometric Movie Shooting – Stored in Camera or to a connected PC

Viewfinder PLUS Tilting LCD Monitor Display

Powerful PC Software Included for Capture, Post-analysis and Reporting

Ergonomically Balanced for Comfort; 30% lighter than previous Model TVS-500EXZ
* Refer to "Specifications" for details.
Multi-Purpose, High Quality R300/R300S/R300Z
Advanced features of the R300 series IR cameras, including the high resolution R300S and R300Z, offer professional performance for a wide variety of applications.
Improved Image Enhancement
Blurring effect of moving objects and telephoto images is minimized when using the averaging S/N improvement feature: "AVE(Σ) Improvement".

Online Ready PC Software NS9500PRO (Included)
Easy Thermal Image Processing and Report Generation.
Includes Real-Time Monitor and Image Capture.
Extensive post-analysis features upon user defined graphics, including calculation of length, area & heat quantity
Freely modifiable report formats using Word or Excel allows adding company logo, etc.
Numerical data conversion into XLS, CSV
Camera control and real-time analysis on Point/ BOX
OS:WindowsXP,WindowsVista(32bit),Windows7(32/64bit)
Trend graph

Histogram

Line profile
FOV by Distance by Focal Length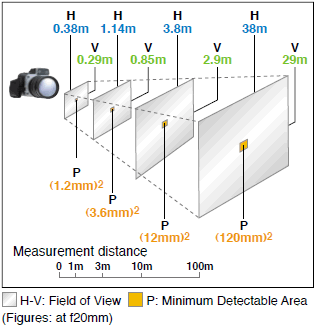 Focal Distance
Distance
H(m)
V(m)
P(mm)
f10mm
0.3m
0.23
0.17
0.72
1m
0.76
0.57
2.4
10m
7.6
5.7
24
100m
76
57
240
f20mm
1m
0.38
0.29
1.20
3m
1.14
0.85
3.6
10m
3.8
2.9
12.0
100m
38
29
120
f30mm
3m
0.74
0.56
2.34
10m
2.4
1.8
7.8
100m
24
18
78
f40mm
3m
0.56
0.42
1.77
10m
1.8
1.4
5.9
100m
18
14
59
• Specifications and outline on this page are subject to change without notice for improvement.
• Company names and commodity names are trade names or registered trade marks of each company.
• Nippon Avionics Co., Ltd. will not be responsible for any damage of infrared detectors due to incoming strong light (e.g. laser) through lens(es).
• This product is subject to Japanese Export Control Law. Depending on its destination, prior assessment and authorization may be required. When exporting from country of initial purchase destination, please be sure to follow that country's export regulations as it may require an export permit beforehand.