[InfReC] is the coined abbreviation word of "Infrared Camera" and also has the meaning of [The Device Recording Infrared Information].
Our product research and development is targeted at improving the quality of life by protecting people and simplifying their daily tasks while measuring temperature, controlling environments, enhancing security, etc.
Thermo GEAR G30
Discontinued Model
Infrared Thermal Imager for General Inspections Ideal for Predictive/Preventive Maintenance & Building Assessment, User Friendly Operation with Sophisticated GUI Navigation
Features
Digital Camera Simultaneous Shooting and Temperature Display on Visible Image
Multi-Lingual Graphical User Interface with Joystick for Easy Operation
Li-Ion Rechargeable Battery Lasting for 7 hours,Lightweight: Approx. 500g only
Fully Radiometric High Quality IR Images
Dust/ Splash Proof with IP54-rated Construction
Wide Field of View 28°(H)x21°(V)
Focus Free (1.3m~), Auto Level-Sense
Fusion, Analysis and Report by PC Software included
Min Focus Distance: 10cm*
Alarm and Isotherm
2 Year Warranty
Gun-grip Style for One-hand Operation
One hand operation is desired to ensure safety in the different locations
Gun-grip style is employed in G30 for one hand operation

"Measure-on-Picture" Function
All the graphical information overlaid on visible image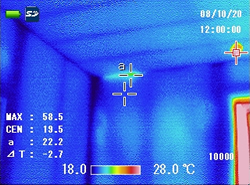 Graphical User Interface
Simple menu navigation with Joystick for Intuitive Operation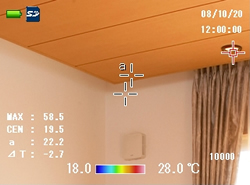 Dimensions of Measuring Distance and F.O.V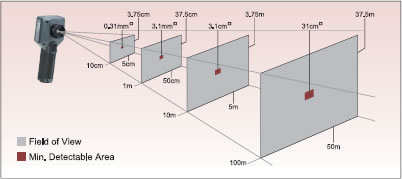 To open .pdf documents, you will need the latest Adobe Acrobat Reader software.
Download Adobe software from left.
If you cannot open the document on your web-browser,
right-click the link and choose option 'Save Target As' to download the pdf into your local storage medium, first.
Then, launch the saved file from your storage device (i.e. HDD of your PC etc.).
• Specifications and outline on this page are subject to change without notice for improvement.
• Company names and commodity names are trade names or registered trade marks of each company.
• Nippon Avionics Co., Ltd. will not be responsible for any damage of infrared detectors due to incoming strong light (e.g. laser) through lens(es).
• This product is subject to Japanese Export Control Law. Depending on its destination, prior assessment and authorization may be required. When exporting from country of initial purchase destination, please be sure to follow that country's export regulations as it may require an export permit beforehand.
---