Body Surface Temperature Screening with Alarm Function
TVS-200IS/TVS-500IS
Discontinued Models
Infrared Thermal Camera optimized for flu detection

Outline
TVS-200IS/TVS-500IS are ideal equipment for you to conduct screening safely and efficiently of those who may potentially be infected with flu. Body temperature of those infected is expected to be around 38~39°C while adult human normal temperature should be around 36°C. Thermal imaging camera can visualize such temperature difference instantly from safe distance for you to segregate those who may have been infected.
Problems
Visual image can not detect fever & abnormal temperature.
Distance of 2m+ is required to prevent infection.
Difficult to determine with thermal image only.
Possibility to overlook when monitoring image only.
It takes time when using normal thermometer
SolutionsWith TVS-200IS/TVS-500IS
Pick out fever from safe place.
Detect person with fever instantly.
Real-time screening can be performed with Isotherm display + mixing function.
Alarm function prevent from overlooking.
Isotherm Function for easier fever detection
Thermal Image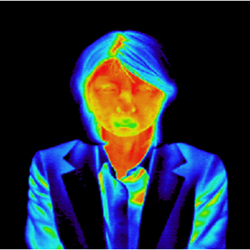 Isotherm Image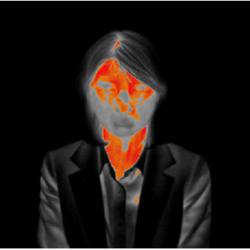 IS series Main Features and Functions
It can measure human body surface temperature with no contact.
(Measurement range:-10 to 60°C)
Top level resolution with non-contact measurement (Accuracy ±1°C: at 30°C Black Body, Center Spot)
Alarm Display when detecting temperature over preset value
Isotherm function(Color Alarm): Color Display of temperature range over preset value helps to determine abnormal temperature easily.
Alarm output function to set up external alarm unit incorporated with lamp and buzzer.
Fusion function (Mixing of both thermal and visual image) for easier identification of those being inspected.
Video output (NTSC or PAL) enables to connect to external video monitor.
Small size & light weight for portability of product.
Made in Japan. Japanese export license is required.
Body Surface Temperature Screening with Alarm Function
TVS-200IS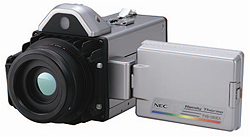 FOV(Field of view)
30.6° (H) x 23.1° (V)
For wide area measurement (with 14mm standard lens)
Temperature resolution 0.08°C (with averaging)
Spatial resolution 1.68mm (1pixel size at 1m distance)
TVS-500IS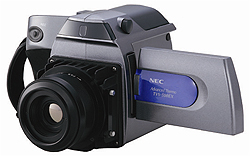 FOV(Field of view)
19.4° (H) x 14.6° (V)
(with 22mm standard lens)
Temperature resolution 0.05°C (with averaging)
Spatial resolution 1.07mm (1pixel size at 1m distance)
Remote Controller(Optional)
(Enable to operate from distance)
Application Software Built-in "Advanced Package"
Easy to transfer thermal & visible images to PC just connecting with USB cable.
Options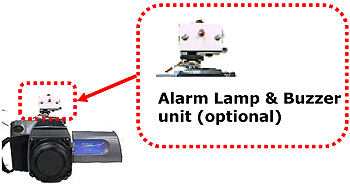 Suggested System Configuration with Alarm Function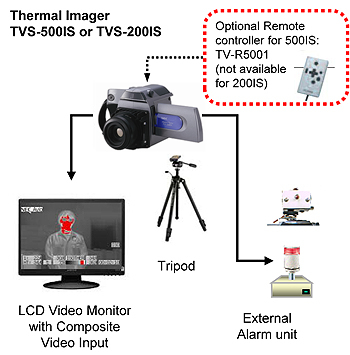 *Images for reference only. Actual appearance is subject to change without prior notice.
Basic Specifications
| | |
| --- | --- |
| Measuring range | -10 to 60°C (for human body temperature) |
| Accuracy (*1) | ±1.0°C (ambient 20-30°C, when measuring black body at 30°C) |
| Detector | 320 x 240 UFPA |
| Focusing range | 30cm to infinity |
| Frame time | 60 frames per second |
| Alarm output | Contact signal output |
| Video output | NTSC or PAL |
| Isotherm function | Displays preset Isothermal band in color |
| Visible camera | Built-in |
| Mixing image | Display of thermal image over visible with transmission |
*1:Accuracy is valid for the center of screen. Please ask your local distributor for details.
NOTE: This thermal imaging camera should not be used for medical purpose.
Other Notes
This device is to measure 'Surface Temperature' of different objects. So, the indicated temperature may differ from the one acquired by regular or medical thermometer depending on conditions.
For instance, Front hair on forehead interferes to measure body surface temperature of the part. Temperature indicated may be lower than actual right after washing face, at wet skin with sweat or when coming from cold place.
Higher temperature than actual may be indicated after exercise, when holding a heat source as pocket warmer, or when hot object is around.
Measured value of body surface temperature is NOT real body temperature. Precise body temperature has to be measured by clinical thermometer under appropriate consultation of medical experts.
The products are made in Japan. The Japanese export license is required.
Described company and model names are registered brand or trademark.
Above images do not reflect actual size of products.
Specifications and appearance of above products are subject to change without prior notice.
To open .pdf documents, you will need the latest Adobe Acrobat Reader software.
Download Adobe software from left.
If you cannot open the document on your web-browser,
right-click the link and choose option 'Save Target As' to download the pdf into your local storage medium, first.
Then, launch the saved file from your storage device (i.e. HDD of your PC etc.).
• Specifications and outline on this page are subject to change without notice for improvement.
• Company names and commodity names are trade names or registered trade marks of each company.
• Nippon Avionics Co., Ltd. will not be responsible for any damage of infrared detectors due to incoming strong light (e.g. laser) through lens(es).
• This product is subject to Japanese Export Control Law. Depending on its destination, prior assessment and authorization may be required. When exporting from country of initial purchase destination, please be sure to follow that country's export regulations as it may require an export permit beforehand.