Thermo Tracer TS9100
Discontinued Model



Protective Housing (optional)

Provides support for various monitoring needs from stand-alone to large remotely controlled installations

The TS9100 fixed-mount Infrared Thermal Imager has many applications such as-


monitoring production line equipment, plant and public facilities;
prevention of serious accident and fire
temperature control for production quality improvement
intruder detection for security
The camera has three alarm modes (two for temperature anomalies and one self-malfunction warning) which allow it to operate as a stand-alone unit.
By using one of the interfaces (RS232C -standard, IEEE1394 or Ethernet - optional) a larger system can be configured for remotely controlled monitoring or real-time thermal image transfer.

Features



Used as a stand-alone monitoring system
With various settings available for the alarm functions the unit can be operated independently.
Uses general-purpose interfaces and cables
With the standard RS232C and optional IEEE1394 or Ethernet interfaces fast and large data processing systems can cover a broad field.
Large system configurable
Multiple TS9100s can be connected and controlled within a large monitoring system. The continuous temperature data, vital for large applications, can be monitored and recorded on a real-time basis.
Software Development Kit (SDK)
This optional extra allows development of user's own software.
Robust construction for field operation
The main unit has IP54 protection rating. An optional protection housing is available for extreme conditions of temperature or dust.

Configuration Examples



| | | |
| --- | --- | --- |
| Stand-alone system | | Basic system configuration |
| | | |
| | | |

Large System



System Application Examples



Temperature detection system for waste disposal facility



Outline

This system gives continuous overall coverage of the landfill site to detect potential fire risk in the most economical manner possible thus reducing the monitoring cost.

Feature

The TS9100 can be set up from the control panel on the back or from the remote PC via the Ethernet
Once set up the TS9100 unit can be disconnected from the PC and operated as a stand-alone unit,
If the measured temperature exceeds the set threshold the alarm signal is generated.
The TS9100 can output NTSC/PAL video signal for checking thermal images on the LCD screen.
User benefits

Monitoring cost reduction using 24-hour unmanned system.
The infra-red camera is ideal for night-time surveillance
Further cost reduction is possible using one TS9100 mounted on the swivel unit to cover a wider area.

Temperature monitoring system for motors of production machinery



Outline

This system monitors continuously the temperature of production line motors to detect overheating generated by potential failures.

Feature

Multiple TS9100s can be controlled centrally from a PC at a remote office (via Ethernet)
When measuring temperatures that are higher than the set threshold, TS9100 can output an alarm signal.
TS9100 can output NTSC/PAL video signal for checking thermal images on the LCD monitor
User benefits

Early warning of potential failures prevents costly breakdowns and production interruptions.

Temperature monitoring system for steel ladle shell



Outline

This system measures the steel ladle exterior temperature, analyses the data and signals any over-temperature situation.

Feature

Automatic monitoring of the steel ladle shell temperature with data analysis enables overheating to be signalled.
Temperature distribution display indicates problem areas and location for prompt repair.
Spillages of molten metal are prevented. Potential repair requirements are predicted and locations are automatically specified.
User benefits

Users can benefit from easy prediction for repairs and prevention of molten iron leakage.




Specifications



Measuring range
TS9100M
TS9100W
Range1
-20 to 100ºC
(calibrated at 0 to 100ºC.
Outside is theoretical value)
-40 to 120ºC
(calibrated at 0 to 120ºC.
Outside is theoretical value)
Range2
0 to 250ºC
(calibrated at 0 to 250ºC)
0 to 500ºC
(calibrated at 0 to 500ºC)
Optional
200 to 1000ºC or 200 to 2000ºC (without range 1& 2)
Resolution
(Defined as waveform noise/10)
Range1
0.06ºC(at 30ºC 60Hz)
0.03ºC(at 30ºC S16)
0.08ºC(at 30ºC 60Hz)
0.04ºC(at 30ºC S16)
Range2
0.15ºC(at 30ºC 60Hz)
0.08ºC(at 30ºC Σ16)
0.30ºC(at 30ºC 60Hz)
0.15ºC(at 30ºC Σ16)
Accuracy
±2ºC or ±2% of reading whichever is greater
(When ambient temp 0—40ºC, standard 21.7° lens used, focusing range 50cm)
Detector
Uncooled focal plane array (microbolometer)
Spectral range
8 to 14μm
I.F.O.V.
1.2mrad (When standard 21.7° lens is used.)
Focusing range
30cm to infinity (motor driven only, at std, wide-angle, 29°lenses
Field of view
21.7°±1.1°(H) x 16.4°±0.9° (V)when using standard 21.7°lens
Frame time
60 frames/sec
Thermal image pixels
320(H)x240(V) pixels(Three lines each on all edges are out of specification)
A/D resolution
14bits
Alarm output
Contact output(photo MOS relay),voltage:DC+10 to 27V,current:40mA or less
Measuring functions

S/N improvement
Event output

Run/Freeze
Σ2, Σ8, Σ16, and spatial filter ON/OFF
Screen display
Env.temp.correction
Provided(including interval NUC)
Background compensation
Provided
Auto functions
Full automatic(level,sense,focus),auto level/sense(manual available),
auto focus, level trace, auto-gain control
Display functions
Display color : color/monochrome, positive/negative
Gradation:16, 32, 64, 128, 256
Color palette : rainbow, brightness, shine, hot-iron, medical, fine
Isothermal band display : max 4 bands
Multi-sense display
Wave form display: X-Y waveform at freeze mode
Alarm display : alarms of temp and TS9100 self diagnosis
Multilingual menu
Image processing functions
Variable level/sense(at Freeze mode)
Multi-point temperature display (10 points)
Multi-point emissivity display (10 points)
Δt display
Max/Min (peak hold) temperature display (full screen or specified area)
Digital zoom: 2, 4 times (Run/Freeze)
Box setting (max. 5 boxes)
Temperature alarm output
Data display
Color bar(grayscale), temp range, temp level. emissivity, multi-point temp display, time, annotation, error display, multilingual menu: English, French, German, Portuguese, Spanish, Japanese
Annotation
Text annotation
Video signal output
NTSC/PAL composite video signal (BNC connector)
Interface
RS-232C (standard) IEEE1394 or Ethernet (option: select when order)
Operating temp/humidity
-15 to 50ºC, 90% RH or less(not condensed)
Storage temp/humidity
-40 to 70ºC, 90% RH or less(not condensed)
Power supply
DC 11 to 13V
Power consumption
Approx. 5W(typical): at environmental temp 20ºC, RUN mode, RS-232C interface
Shock and vibration
294m/s2(IEC60068-2-27), 29.4m/s2(IEC60068-2-6)
Environmental protection
IP54(IEC60529)
Dimenstions
Approx. 99 (W) x 112 (H) x 206 (D) mm
(w/ standard, wide-angle or 29° lens: excluding projection)
Approx. 112 (W) x 112 (H) x 230 (D) mm
(with 2x telephoto lens: excluding projection)
Weight
Approx. 2.6kg (w/ standard, wide-angle or 29° lens)
Standard accessories
Lens cap, operation manual, power connector
Specifications are subject to change without prior notice.

Options

| | | |
| --- | --- | --- |
| Item | Model | Description |
| High Temperature Range | TS91-390 | 200 to 1000ºC *1 |
| High Temperature Range | TS91-391 | 200 to 2000ºC *1 |
| IEEE1394 interface | TS91-462 | With data capture software |
| Ethernet interface | TS91-456 | With remote control software |
| Protective Housing | TS91-350 | Air-cooled housing for indoor use |
| Software Development Kit | TS91-760 | Compatible with Microsoft Windows 2000 and XP |
Note 1:When installing high temperature range,standard measuring range 1 and 2 can not be used.

Lens

| | |
| --- | --- |
| Standard Lens | 21.7° |
| Wide-angle Lens | 42.0° |
| 2X Telephoto Lens | 10.9° |
| Lens of same FOV as TS7302 | 29.0° |

Field of View Diagram




**When standard (21.7°)lens is used.

Outline Diagram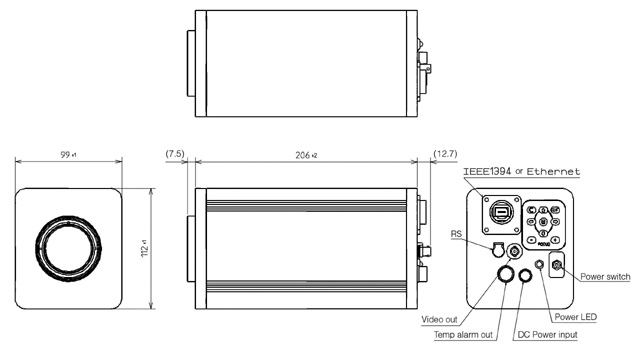 • Specifications and outline on this page are subject to change without notice for improvement.
• Company names and commodity names are trade names or registered trade marks of each company.
• Nippon Avionics Co., Ltd. will not be responsible for any damage of infrared detectors due to incoming strong light (e.g. laser) through lens(es).
• This product is subject to Japanese Export Control Law. Depending on its destination, prior assessment and authorization may be required. When exporting from country of initial purchase destination, please be sure to follow that country's export regulations as it may require an export permit beforehand.