Thermo Tracer TH9100Pro
Features Visual and Thermal Image Composite Function!
Easy identification of thermal spots.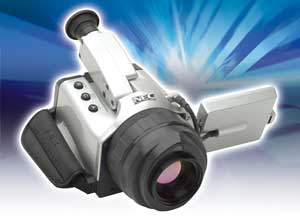 (Discontinued Model)
Visual Image(motor)
Thermal Image(motor)
Composition image(motor)

New Features
Infrared/visual image composition
High grade silver metallic color body
LCD/viewfinder automatically
switches on when opened
Easy-to-find shaded point cursor
Simple deletion of thermal image
using thumbnail display
File operation available during RUN

Built-in motor drive lens with
visual camera:
Record thermal & visual images
simultaneously and display the
composition image for easy
identification of thermal hotspots.

| | |
| --- | --- |
| | Easy Operation |
| | Easy-to-use Joystick Control Multilingual Menu (English,French,German,Italian, Japanese,Korean,Portuguese, Russian,Spanish,Simplified chinise, Traditional chinese)Full-auto Function |

Robust Body
Dust/splash-proof IP54
Shock 294m/sec2(30G)
Vibration 29.4m/sec2(3G)

High Resolution
0.06°C at 30°C 60Hz
0.02°C at 30°CΣ64 (TH9100PMV)

Clear Image
New reflective/transmissive LCD
for use in both bright and low light
situations

Portable
Small/lightweight: 1.7kg
(including LCD & battery)
Battery Operation Time:
approx. 150 min *

Moving image recordable
Recording Time
Approx. 27 sec (at 60Hz/sec)
Approx. 55 sec (at 30Hz/sec)
Approx. 166 sec (at 10Hz/sec)

*at 20°C ambient temperature,LCD off,and mesurement is RUN and stand by.