Thermo Tracer TH9100MRI/WRI
Discontinued Models
Movie image recordable!! Easy measurement of fast changing objects.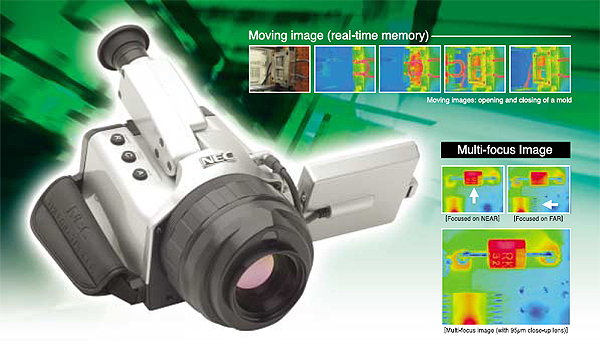 Features
High performance UFPA detector
Resolution:0.02°C (TH9100MRI at 30°C, Σ64)
Accuracy: ±2% of reading or ±2°C




Moving image recordable
Recording time:
Approx. 27 sec (at 60 frames/sec)
Approx. 55 sec (at 30 frames/sec)
Approx. 166 sec (at 10 frames/sec)

| | |
| --- | --- |
| | Multi-focus function |
| | Performs edge detection of acquired images, while moving the focus, and fuses them into an image with deeper depth of field (Freeze-frame) |

Visual/thermal image fusion function
Measures visual and thermal images simultaneously and displays the fusion image for easy identification of thermal spots.
Automatically corrects parallax of thermal and visual images.

| | |
| --- | --- |
| | Real-time emissivity correction for multiple points |
| | Emissivity can be set for up to 10 points (Patented) |

| | |
| --- | --- |
| | Reflective/transmissive color LCD |
| | Clear and sharp images can be obtained by reflected light at daytime and backup light at nighttime. |

Easy operation
Easy-to-use joystick control
Multilingual menu: (English, French, German, Italian, Japanese, Korean, Portuguese, Russian, Spanish, Simplified Chinese and Traditional Chinese)
Automatic functions: Level/sense/focus, Level trace & Auto gain control

| | |
| --- | --- |
| | Voice recording |
| | Voice memo can be recorded up to 30 seconds per image. A fresh reminder of the field condition. |

Robust design
Dust/splash-proof: IP54
Shock-proof: 294m/sec2 (30G)
Vibration-proof: 29.4m/sec2 (3G)
Specifications
Measuring range
TH9100MRI
TH9100WRI
Range 1:
−20 to 100°C
−40 to 120°C
Range 2:
0 to 250°C
0 to 500°C
Range 3:
(optional)
100 to 800°C
(Display:0 to 800°C)
200 to 2000°C
(Display:0 to 2000°C)
Range 4:
(optional)
200 to 2000°C
(Display:0 to 2000°C)
−
Resolution
Range 1:
0.06°C (at 30°C, 60Hz) 0.02°C (at 30°C, Σ64)
0.08°C (at 30°C, 60Hz) 0.03°C (at 30°C, Σ64)
Accuracy
±2°C or ±2% of reading, whichever is greater
Detector
Uncooled focal plane array (microbolometer)
Spectral range
8 to 14µm
I.F.O.V.
1.2mrad
Focusing range
30cm to infinity
Field of view
21.7°(H) x 16.4°(V)
Frame time
60 frames/sec
Display
View finder and 3.5-inch color LCD
Thermal image pixels
320 (H) x 240 (V) pixels
A/D resolution
14 bits
Measuring functions
Run/Freeze
S/N improvement
Σ2, Σ8, Σ16, Σ32, Σ64 and spatial filter ON/OFF
Alarm
Screen display and alarm sound (ON/OFF)
Interval measurement
Recording on built-in real-time memory : 1/60 to 3600 sec interval
Recording on memory card : 5 to 3600 sec interval (thermal image)
30 to 3600 sec. (thermal visual images)
Trigger function provided
Emissivity correction
Provided (0.10 to 1.00). Emissivity table provided.
Env. temp. correction
Provided (including interval NUC)
User setup
Pre-registration of environmental setup (max. 10 setups)
Background Compensation
Provided
Ambient correction
Provided
Auto functions
Full automatic (level, sense, focus)
Level trace, auto-gain control
Display functions
Thermal/visual fusion image display
Display color : color/monochrome, positive/negative
Gradation : 16, 32, 64, 128, 256
Color pallette : rainbow, brightness, shine, hot-iron, medical, fine
Isothermal band display : max. 4 bands
Thumbnail display : 12 thermal images replay
Multi-sense display, Battery life indicator
Line-profile : X, Y line profile (waveform display) Multilingual menu
Image processing functions
Variable level/sense
Multi-point temperature display (up to 10 points)
Multi-point emissivity correction (up to 10 points)
Temperature difference between 2 points (Δt)
Max/Min (peak hold) temperature display
Alarm (full screen or specified box)
Digital zoom: 2, 4 times (Run/Freeze)
BOX setting, up to 5 boxes (max, min, average)
Multi-focus, Sharpness filter, Median filter
Annotation

Text and voice annotation (30 sec per image)
Storage device
Compact flash memory card for;
Thermal image in SIT or BMP file format
Visual image in SIT or JPEG file format
Thermal/visual fusion image in BMP file format
Movie recording

Real-time memory : 1664 images (max. 60Hz)
Video signal output
NTSC/PAL, composite video signal, S-video
Interface
IEEE1394, RS-232C
Compact flash mermory card slot
Operating temp/humidity
−15 to 50°C, 90% RH or less (not condensed)
Storage temp/humidity
−40 to 70°C, 90% RH or less (not condensed)
Power supply
AC adaptor : 100V to 240V, DC 7.2V (nominal)
Power consumption
Approx. 6W (typical)
Shock and vibration
Shock: 294m/sec2 (30G) (IEC60068-2-27)
Vibration: 29.4m/sec2 (3G) (IEC60068-2-6)
Environmental protection
IP54 (IEC60529)
Dimensions
Approx.108 (W) x 113 (H) x 189 (D) mm
(excluding projections)
Weight
1.4kg (excluding battery and LCD)
1.7kg (including battery and LCD)
Standard accessories
AC adaptor, battery pack (2pcs), battery charger, compact flash memory card, grip belt, neck strap, lens cap,carrying case, viewer software, operation manual
**Specifications are subject to change without prior notice.
**Described company name and model are brand name or registration of trademark.
Visual Camera
| | |
| --- | --- |
| Pixels | 0.41Mega pixels |
| Effective image pixels | 752 (H) x 480 (V) pixels |
| Field of view | 30.1。(H) x 22.7。(V) |
| Sensitivity | 1 lux |
| Focusing distance | 30cm to infinity |
| Auto exposure | Provided |
| Video signal | NTSC/PAL |
Applicable Software
Report Generator NS9200 (optional)
Helps to make reports easily with thermal images and temperature data on MS Word and Excel.
Fusion of thermal and visual images.
Subtraction (Entire image, specified area, like-figures)
File management by database.
Detects abnormal temperature by max/min temperature display.
Direct data transfer to MS Excel.
---
Data Capture Program with Trigger Function NS9100 (optional)
Helps to acquire real-time images via IEEE1394 or Ethernet.
Easy programming of measurement condition and procedures. (Trigger Sequence function)
Temperature display within specified area (up to 16 points)
Real-time trend display (up to 8 waveforms)
Real-time subtraction from selected thermal image
Real-time display of thermal/visual fusion image on selected visual image
Options
Model
Description
TH91-390
High temperature range for TH9100MRI*1
R3: 100 to 800°C, R4: 200 to 2000°C
TH91-392
High temperature range for TH9100WRI*1
R3: 200 to 2000°C
TH91-384
2x telephoto lens, 10.9°(H) x 8.2°(V), with visual camera
TH91-484
4x telephoto lens, 5.5°(H) x 4.1°(V)
TH91-383
0.5x wide angle lens 42.0°(H) x 32.1°(V), with visual camera
TH91-386
95µm Close-up lens, 30mm(H) x 22mm(V) W.D. 75mm
TH91-385
37µm Close-up lens, 11mm(H) x 8mm(V) W.D. 13mm
Spy Glass lens
Fisheye lens, 53° x 40°
*1 Specify these options when ordering the main unit (TH9100MRI/WRI)
Field of View Diagram(Thermal Image)