Thermo Tracer TH9100MLN/WLN
New Feature Visual and Thermal Image Composite Included!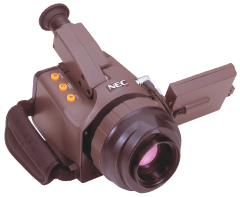 (Discontinued Models)
| | | |
| --- | --- | --- |
| | | |
| Visual Image | Thermal Image | Composite Image |
Features
Visual camera built into IR lens
Built-in visual camera on Standard,Telephoto and Wide Angle lens provides
minimal parallax and the same magnification with the infrared lens.
Simultaneous storage of infrared and visual image in the same file.
Standard lens has high resolution I.F.O.V 1.2mrad.




| | |
| --- | --- |
| | Visual and thermal image composite function included |
| | Measures visual image and infrared image simultaneously and displays the composite image which is easy to identify abnormal thermal spots. |

Easy operation
Easy-to-use joystick control
Pull down menu
Multilingual Menu
(English, French, German, Italian, Japanese, Korean, Portuguese, Russian,Spanish, Simplified Chinese, Traditional Chinese)

High quality flip out 3.5inch LCD
Adapts to sun light reflection or low light conditions for both outdoor and
indoor.Fully functional in bright light.
Detachable and extendable with optional extension cable.
Remote controller available as option.

High performance UFPA detector
Temperature resolution(TH9100MLN)
0.08°C at 30°C 60Hz
0.04°C at 30°C ∑16
Measuring accuracy ±2% or ±2°C

Lengthy battery life
Approx. 2 and half hours operation available with a small and lightweight battery(appox. 100g).
Battery life indicator tells you the timing to change the battery.

| | |
| --- | --- |
| | Automatic functions |
| | Level/sense/focus,Level trace & Auto gain control |

Light weight & robust body
Weight approx.1.7kg(including battery and LCD)
Operating temperature -15 to 50°C
Dust/splash-proof IP54
Shock-proof 294m/sec2(30G) Vibration-proof 29.4m/sec2(3G)
Specifications
Measuring range
TH9100MLN
TH9100WLN
Range 1
-20 to 100°C
-40 to 120°C
Range 2
0 to 250°C
0 to 500°C
Range 3 (option)
100 to 800°C
200 to 2000°C
Range 4 (option)
200 to 2000°C
−
Resolution
Range 1
0.08°C
(at 30°C 60Hz)
0.04°C
(at 30°C Σ16)
0.10°C
(at 30°C 60Hz)
0.05°C
(at 30°C Σ16)
Accuracy
±2°C or ±2% of reading whichever greater
Detector
Uncooled focal plane array (microbolometer)
Spectral range
8 to 14µm
I.F.O.V.
1.2mrad
Focusing range
30cm to infinity
Field of view
21.7°(H) x 16.4°(V)
Frame time
60 frames/sec
Display
View finder and 3.5 inch LCD monitor with auto switch
Thermal image pixels
320 (H) x 240 (V) pixels
A/D resolution
14 bits
Measuring functions
Run/Freeze
S/N improvement
Σ2,Σ8,Σ16 and spatial filter ON/OFF
Alarm
Screen display and alarm sound (ON/OFF)
Interval measurement
Recording on memory card : 5 to 3600 sec interval (thermal image)
30 to 3600 sec. (thermal & visual image)
Trigger function provided
Emissivity correction
0.10 to 1.00 (at 0.01 step), Emissivity table provided
Env. temp. correction
Provided (including interval NUC)
User setup
Pre-registration of environmental setup (max. 10 setups)
Background comp.
Provided
Auto functions
Full automatic (level, sense, focus)
Level trace, auto-gain control
Display functions
Thermal/visual composite image display
(parallax adjustable manually)
Display color : color/monochrome, positive/negative
Gradation : 16, 32, 64, 128, 256
Color palette : rainbow, brightness, shine, hot-iron, medical, fine
Isothermal band display : max. 4 bands
Thumbnail display : 12 thermal images replay
Multi-sense display, Battery life indicator
Line-profile : X, Y line profile (waveform display)
Multilingual menu
Image processing functions
Variable level/sense
Multi-point temperature display (10pts)
Multi-point emissivity display (10pts)
Δt display
Max/Min (peak hold) temperature display
Alarm (full screen or specified box)
Digital zoom : 2, 4 times (Run/Freeze)
Box setting (max. 5 boxes)
Annotation
Text and voice annotation (30 sec per image)
Storage device
Compact flash memory card for;
Thermal image in SIT or BMP file format
Visual image in SIT or JPEG file format
Video signal output
NTSC/PAL composite video signal, S-video
Interface
IEEE1394, RS-232C, USB(optional)
Operating temp/humidity
-15 to 50°C, 90% RH or less (not condensed)
Storage temp/humidity
-40 to 70°C, 90% RH or less (not condensed)
Power supply
AC adaptor : 100V to 240V, DC 7.2V (nominal)
Power consumption
Approx. 6W (typ)
Shock and vibration
294m/sec2 (IEC60068-2-27), 29.4m/sec2 (IEC60068-2-6)
Environmental protection
IP54 (IEC60529)
Dimensions
Approx.108 (W) x 113 (H) x 189 (D) mm
(excluding projection)
Weight
Approx. 1.4kg (excluding LCD & battery)
Approx. 1.7kg (including LCD & battery)
Standard accessories
AC adaptor, battery pack (2pcs), battery charger, compact flash memory card, grip belt, neck strap, lens cap,carrying case, viewer software, operation manual
Specifications are subject to change without prior notice.
Visual Camera
| | |
| --- | --- |
| Pixels | 0.41Mega pixels |
| Effective image pixels | 752 (H) x 480 (V) pixels |
| Field of view | 30.1°(H) x 22.7°(V) |
| Sensitivity | 1 lux |
| Focusing distance | 30cm to infinity |
| Auto exposure | Provided |
| Video signal | NTSC/PAL |
Viewer Software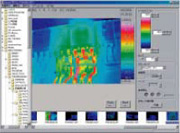 Thermal image display :
Thermal image thumbnail(Windows Explorer)
Thermal image replay
Image preview
Setup & Functions :
Level, Sense, Span, Voice replay,
Selection of thermal or visual image,
Color bars, Gradation, Page
Edit :
Image save (BMP or JPEG)
Select folder
Options
TH91-390
High temperature range for TH9100MLN*1
R3: 100 to 800°C, R4: 200 to 2000°C
TH91-392
High temperature range for TH9100WLN*1
R3: 200 to 2000°C
TH91-313
USB Interface with TH91-737 remote program *1
TH91-384
Telephoto lens (x2) 10.9°(H) x 8.2°(V) with visual camera
TH91-383
Wide angle lens 42.0°(H) x 32.1°(V) with visual camera
TH91-386
Close-up lens, 95µm, 30mm(H) x 22mm(V) W.D. 75mm
TH91-385
Close-up lens, 37µm, 11mm(H) x 8mm(V) W.D. 13mm
TH91-387
External lens adaptor for TH71-344A wide angle lens,
TH71-377/378 close up lenses
TH71-464
Rechargeable battery pack (Li-ion) 7.2V 1800mAh
TH71-340
Battery charger for 100/110V (2 battery slots)
TH71-339
Battery charger for 220/240V (2 battery slots)
TH71-334
AC adaptor (100/110V AC)
TH71-360
AC adaptor (110V AC) UL
TH71-359
AC adaptor (220/240V AC) CE
TH91-375
Remote controller
TH91-398-L05
5m cable for remote controller TH91-375
TH71-347
LCD remote controller (TH91-347-L connecting cable is required)
TH91-347-L05
5m cable for LCD remote controller TH71-347
TH91-347-L10
10m cable for LCD remote controller TH71-347
TH91-347-L15
15m cable for LCD remote controller TH71-347
TH91-347-L20
20m cable for LCD remote controller TH71-347
TH91-349
RS232C Cable
TH91-348
S-video cable
TH91-713
Report Generator Software *2
TH91-711
Image Processor Software (TH91-713 is required) *2
TH91-712
Image Processor Pro Software *2
TH71-717
IEEE1394 Data Capture Software *2
MikroSpec
Thermal Imaging Software *2
MikroSpec R/T
Real-Time Thermal Data Acquisition & Analysis Software *2
irMotion
Recorder, Trigger and Measurement Software *2
Trigger Box
Trigger box for irMotion
*1 Specify these options when ordering the main unit (TH9100MLN/WLN)
*2 Compatible with the Microsoft Windows 2000 professional, Windows XP
Field of View Diagram(Thermal Image)