[InfReC] is the coined abbreviation word of "Infrared Camera" and also has the meaning of [The Device Recording Infrared Information].
Our product research and development is targeted at improving the quality of life by protecting people and simplifying their daily tasks while measuring temperature, controlling environments, enhancing security, etc.
InfReC S30 Series
Discontinued Model
Compact & Rugged Design Ensures and Broadens Integration Possibility into Various Process Monitoring Systems
Ideal for Monitoring Processes / Facilities for Quality Control & Predictive Maintenance
Temperature Monitoring Applications representing Low-Pressure Casing, Flaw Detection, Fire Prevention. Integration into Machinery / Robot
Integrator / User's Own System, Software Development Supported
SDK (Software Development Kit)* supports customized system design. Simple remote control & viewer software comes with
Features
Small, Light & Robust
Flexible and easier installation / placement even in a limited / restricted room availability
IP67 rated protective casing makes it possible to be used in harsh environment
Image and Measurement
160 x 120 pixel image sensor allows high-resolution thermal image measurement
Visible light camera incorporated. Each single picture (still image) can be embedded with visible image (selectable). Either IR or visible image can be viewed via analogue video output.
Measuring Temperature Range is to be chosen from either -20°C to +350°C (S30W) or 0°C to +600°C (S30H)
Network-Configured and Controlled
Ethernet Interface incorporated for remote operation and flexible system building
Alarm Output
When adequately programmed, the camera can operate for monitoring to output alarm signal on its own (disconnected from network), too.
Software and Tools
Remote Control Software as a standard accessory to configure, program and operate over the network
Thermal image viewer, analysis and report generator software (for captured images) comes with (NS9500LT)
Software Development Kit (SDK) available free for purchasers*
Features and Parts Description
Small but sturdy packaging with solid aluminum body, standard tripod mount and screw holes for flexible installation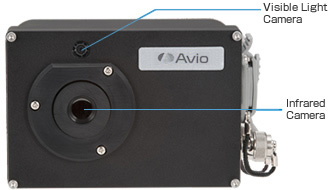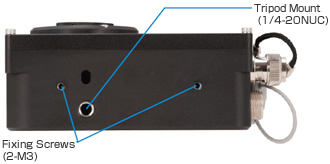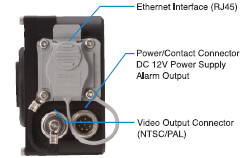 * Dedicated connector comes with the camera. To facilitate evaluation and or installation, it is strongly suggested to take and start with Quick Start Kit: S30-351 / 352 since it is comprised of the cable for DC Power / Alarm output, AC / DC Adaptor, AC Cable and Ethernet cable with dust / splash protection.
• Specifications and outline on this page are subject to change without notice for improvement.
• Company names and commodity names are trade names or registered trade marks of each company.
• Nippon Avionics Co., Ltd. will not be responsible for any damage of infrared detectors due to incoming strong light (e.g. laser) through lens(es).
• This product is subject to Japanese Export Control Law. Depending on its destination, prior assessment and authorization may be required. When exporting from country of initial purchase destination, please be sure to follow that country's export regulations as it may require an export permit beforehand.