[InfReC] is the coined abbreviation word of "Infrared Camera" and also has the meaning of [The Device Recording Infrared Information].
Our product research and development is targeted at improving the quality of life by protecting people and simplifying their daily tasks while measuring temperature, controlling environments, enhancing security, etc.
Infrared Thermography H2640/H2630 Series
Discontinued Models
Top-grade performance with the high resolution 640 x 480-pixel detector!
Infrared Thermography H2640 : Features
High resolution 640 x 480-pixel detector
Image resolution is four times higher than 320 x 240 detector : 307,200 vs. 76,800 thermal pixels.
Users can achieve quick measurement of wider area with high resolution.
Radiometric movie recording
Real-time capture on PC via IEEE1394
High speed continuous shooting to internal memory

Wide 5.6-inch LCD
Bright LED-backlit screen - easy to see indoor/outdoor
Pan-tilt display for flexible shooting posture
Basic performance
Resolution: 0.06°C or better (at 30°C, 30Hz), 0.03°C or better (at 30°C, ∑64) :H2640
Resolution: 0.08°C or better (at 30°C, 30Hz), 0.04°C or better (at 30°C, ∑16) :H2630
Accuracy: ±2%(of reading) or ±2°C
I.F.O.V.: 0.6mrad
Visual/thermal fusion, simultaneous shooting
Visible light camera built-in
Alpha blending, Resizable, Movable

Multi-language menu
English, French, German, Italian, Japanese, Korean, Portuguese, Russian, Spanish, Simplified Chinese and Traditional Chinese
Various measuring functions
multiple emissivity correction in real-time
multi-focus function(H2640)
External trigger recording
Easy to use - longer operation
Battery life : Approx. 2 hours
IP54 protective casing
200g lighter than preceding TH9260
Excellent supporting functions
Auto/manual focus (mechanical/ motorized)
LED illuminator and laser pointer
Voice & text annotations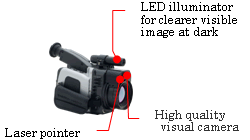 • Specifications and outline on this page are subject to change without notice for improvement.
• Company names and commodity names are trade names or registered trade marks of each company.
• Nippon Avionics Co., Ltd. will not be responsible for any damage of infrared detectors due to incoming strong light (e.g. laser) through lens(es).
• This product is subject to Japanese Export Control Law. Depending on its destination, prior assessment and authorization may be required. When exporting from country of initial purchase destination, please be sure to follow that country's export regulations as it may require an export permit beforehand.